Brian Banks was 16 years old in the summer of 2002, a 6-foot-2, 220-pound linebacker with speed at powerhouse Long Beach Polytechnic High in Southern California, as promising a football player as any high school kid in the country.
As one of the most highly recruited middle linebackers in the nation, he had a verbal commitment to play on full scholarship for Pete Carroll at USC.
What could be better than that?
"I would go to these football camps and just dominate," Banks says. "I had my own mailbox at school because I was getting so many recruiting letters."
Life isn't fair, Banks says over and over in the life-coach talks he gives now, a devastating message that took flight for Banks on July 8, 2002. He was taking summer classes at his high school and left the classroom for what was supposed to be a quick call to a documentary crew preparing a feature on the rivalry with De La Salle High School in Northern California.
"I stepped outside to make the phone call and I ran into a classmate of mine," Banks says.
Her name was Wanetta Gibson. She was a friend. She was 15.
"We met, hugged, started talking and agreed to go to an area on our campus that was known as a make-out area," Banks says. "We went to this area and made out. We never had sex."
By the end of the day, Banks was in custody, accused of raping Gibson on the school's campus. But we never had sex, Banks pleaded. Nobody believed him.
"I was being arrested and accused of kidnapping and rape," he says. "I was taken into custody that same day and the judge put a bail on me that was too high for me to post bond. It was over $1 million."
He languished in juvenile hall for an entire year before his case came up. He was to be tried as an adult and if found guilty, faced 41 years to life. His football dreams effectively died that summer day in the stairwell of his school.
Life isn't fair.
Brian Banks was an innocent man.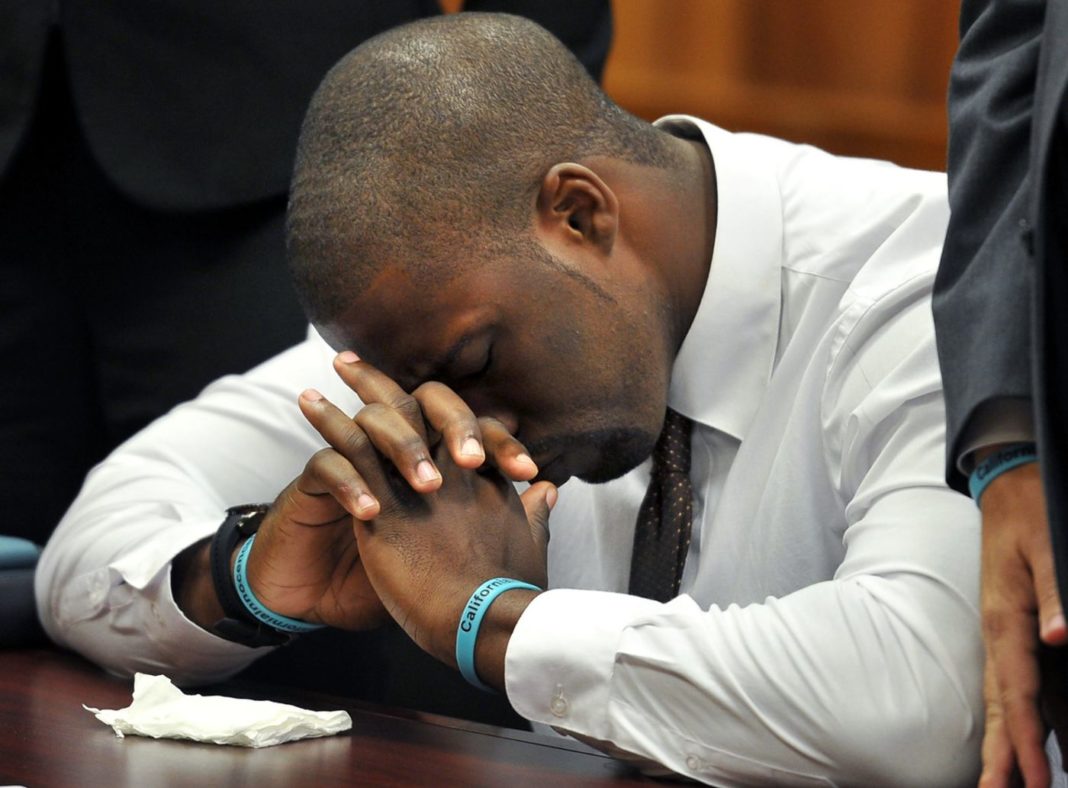 After turning down three plea deals that would have put him in prison for 25, 18 or nine years, Banks was told on the day of jury selection "that I had no chance in trial because I was a big, black teenager and the jury would be an all-white jury and they would automatically assume me as guilty because of that," Banks says.
Gibson was also black, as was Banks' attorney. As the jury was about to be selected, Banks was offered a deal to plead guilty to one count of rape under the condition that the other charges would be dropped. He would then undergo a 90-day observation at Chino State prison and would be interviewed and evaluated by psychologists and counselors "who would determine on a ladder system whether I would receive probation or three or six years prison," Banks says. "I was promised and guaranteed by my attorney that I would get probation if I took the plea. I was also told that if I didn't take it, I would more than likely be found guilty and receive life in prison."
He was 17 years old. "Do I plead to a crime that I did not commit and receive a small sentence or do I roll the dice, risk my entire life behind bars for a crime I didn't commit?" he says. "I realized that day, regardless of whatever my decision was, neither one of them was going home an innocent man."
All he could think about was getting his life back, going home, playing football, finishing his high school education, enrolling at USC. They put him in a room and gave him 10 minutes to make his decision. He sat there crying. "I was unable to speak to my mom. I was denied that right," he says. "At the age of 17, I felt like 90 days was doable after already spending a year behind bars."
He underwent the 90-day observation. The psychologist and counselor recommended probation. The judge gave him six years. He had never been in trouble before, not even a speeding ticket. He sat in the holding cell, held both hands up, shaking uncontrollably as he figured out that he would have to serve 85% of the six years. He had already served one year. That meant he still had just over four years remaining.
"Just the trauma and the stress that I had already dealt with that first year, it was unimaginable how I was going to do another four years," he says.
He went to jail with career criminals. He was angry, depressed, hostile. He saw fights, stabbings, killings right in front of him, riots, lockdowns.
He saw hell.
Banks lost 10 years of his life, a frightful five years and two months in prison followed by five years of high custody parole.
After his release in 2007, he moved back in with his mother, a second-grade schoolteacher who had sold her house and car to pay his attorney fees. At 22 he tried to resume his football career at Long Beach City College. He played in a game two days after his release, a good way to take out aggression. But after playing a handful of games before the season ended, a new law went into effect in California requiring sex offenders to wear an ankle GPS tracking device, making it impossible for him to play football.
He had already registered as a sex offender and couldn't live within 2,000 yards of a school or park. He had trouble finding work.
"I wanted revenge," Banks says. "I wanted people to be held accountable for the things that happened to me."
Then, in 2011, as Brian was still on parole, something astounding happened. He received a Facebook friend request. Unbelievably, it was from Wanetta Gibson, who wanted to "let bygones be bygones."
Brian says he struggled to keep his emotions under control. He knew this represented a once-in-a-lifetime opportunity to clear his name, and getting angry wouldn't help. Instead, he says, "I stopped what I was doing and got down on my knees and prayed to God to help me play my cards right."
The card he decided to play was to team up with a private investigator named Freddie Parish. Together they met twice with Wanetta Gibson, and Parish secretly video taped the sessions. During the meetings Gibson frankly admitted that her accusations had been false, and said she would like to help Brian clear his name. However, there was a big obstacle standing in the way of her making her recantation public.
In the wake of the supposed rape, Gibson and her mother, Wanda Rhodes, had sued the Long Beach Unified School District for the "lax security" they claimed allowed the rape to take place. The school district settled the lawsuit by paying the two $1.5 million.
Now, as the video reveals, Gibson had some definite limits on her willingness to help the man she had so egregiously wronged. "I will go through with helping you," she said, "but it's like at the same time all that money they gave us, I mean gave me, I don't want to have to pay it back." Because of that fear of being required to repay the money she had acquired by her fraudulent claim, Gibson refused so repeat her story to prosecutors so that Brian could be exonerated.
Brian Is Completely Exonerated of All Charges
But she didn't know about the video. Working with the California Innocence Project, Brian presented the video taped recantation to district prosecutors. They immediately understood that an innocent man had been imprisoned. "We do not believe Mr. Banks did the crime he pled guilty to," said Deputy District Attorney Brentford Ferreira.
Prosecutors moved to have the rape and kidnapping convictions overturned, and Brian Banks was completely exonerated of the charges for which he had spent ten years of his life in prison or on closely supervised parole.
This is a great story, with the potential to have an unbelievably happy ending. Wouldn't it be great if Brian Banks made it big in professional football? I can already see the movie! At the very least, there will be a small measure of financial restitution, since California law provides that a person who is falsely imprisoned will receive $100 for very day they spent incarcerated. So, Brian Banks will get at least a tiny portion of compensation for all the dashed dreams and daily suffering he experienced for more than ten years.
Will the Woman Who Falsely Accused Him Get Away With It?
But what about Wanetta Gibson? She was just 15 at the time she made the accusations against Banks. Tori Richards, writing for thedaily.com, quotes neighbors who maintain that it wasn't so much Gibson, but her "controlling" mother, Wanda Rhodes, who cooked up the scheme to get a big unearned payday by suing the school district for a rape that never occurred. Should Gibson now be held legally accountable for the fraud she helped perpetrate as a teenager?
Prosecutors say that probably won't happen – the case would be just too difficult to make. They also say it's unlikely she'll be required to pay back the $1.5 million acquired in the settlement of the suit.
Well, what about the mom who is thought to be the real force behind her daughter's actions? Even one of Brian's attorneys, Alissa Bjerkhoel of the California Innocence Project, believes that the teenage girl "was put up to this by her mother." But it seems to me that if the case against Wanetta Gibson would be difficult to make, making one against Wanda Rhodes would be just about impossible, despite her lengthy record of serious criminal offences.
So, they get away with it.
After robbing a young man of ten years of his life, and defrauding a school district of $1.5 million dollars, and showing absolutely no remorse for any of it, it seems our legal system can't hold this mother and daughter accountable.